Kinetics SolarGel Professional Nail Polish #190
Kinetics is delighted to announce the launch of their new generation, professional nail duo – SolarGel Professional Nail Polish and SolarGel Top Coat.
These two revolutionary products are used together to achieve an instant gel-like, super-shiny look, lasting for up to 10 days, plus the exciting part is that no UV/LED lamp is required.
This exciting advancement comes at the perfect time, as many customers are longing for quicker, more effective results in less time. This is now instantly achieved with our easy two-step application process. No base coat is needed, just apply the SolarGel professional nail polish directly onto the nails and seal with the SolarGel top coat, this will extend its wear time for up to 10 days, with no chipping!
Say so-long to regular nail polish that becomes fragile over time, as SolarGel Top Coat makes the polish stronger, creating a longer-lasting, superior gloss and standout color. Self-levelling also offers the perfect, smooth professional finish.
So if you fancy producing glossy, professional, gel-like nails in just minutes, Kinetics has the products for you!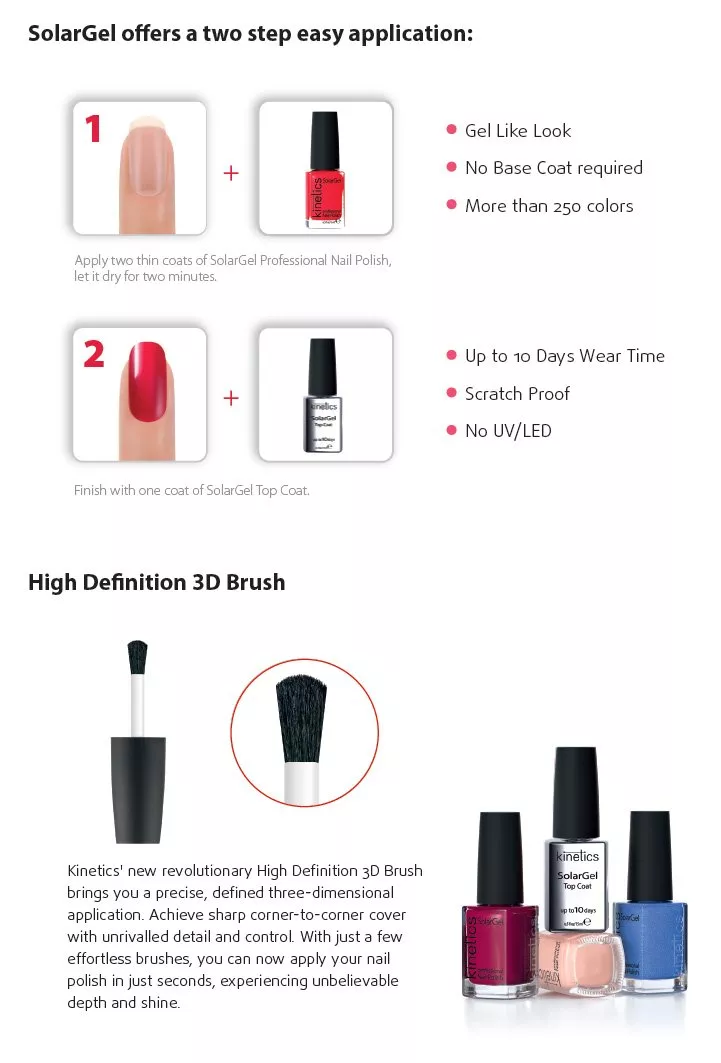 Kinetics SolarGel Video
Kinetics SolarGel StepByStep
Kinetics SolarGel StepByStep removal
Bli först med att recensera denna produkt
Ratings & Reviews
Bli först med att recensera denna produkt
Write your review
About the Kinetics SolarGel Professional Nail Polish #190
Customers Who Bought This Item Also Bought
We found other products you might like